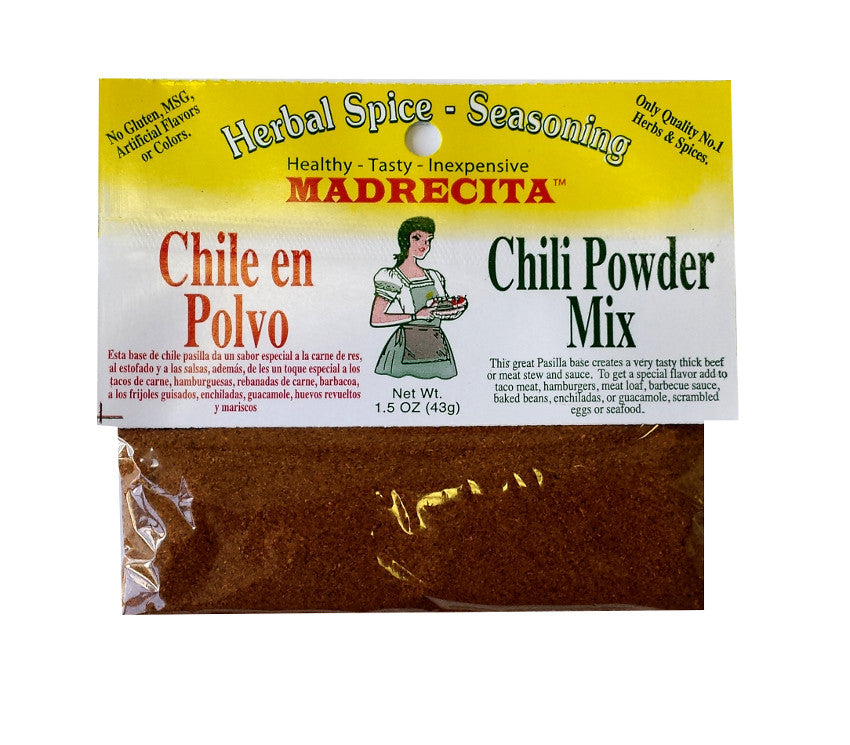 Chili Powder Mix
1.5 oz package
Commercially produced chili powder was first made available around 1894. Two men from Texas are credited with it's creation, D.C. Pendery and William Gebhardt. It was created mainly for making chili con carne, a very popular Tex-Mex dish. Gebhardt later went on to make the first mass-produced canned chili con carne.
Our custom pasilla based chili powder blend creates a very tasty and thick beef or meat stew and sauce. Use this blend of spices to give an authentic flavor to taco meat, hamburgers, meat loaf, barbecue sauce, baked beans, enchiladas, guacamole, scrambled eggs and seafood. And of course, this seasoning blend will help make a great pot of chili!
Esta base de Chile Pasilla da un sabor especial a la carne de res, al estofado,  a las salsas. Ademas, un toque especial a los tacos de carne, hamburguesas, rebanadas de carne, barbacoa, a los frijoles guisados, enchiladas, guacamole, huevos revueltos, y mariscos.